OUR EXPERTISES > CORPORATE
Data protection is an integral part of any business. The global regulatory landscape for data is continually evolving and businesses face a challenging environment in which to navigate compliance. Without confidence in how data is being used, it is difficult for a business to realise the full value of its data assets.
Compliance With Data Protection
Del Canto Chambers provides a range of data protection advisory services tailored to suit a company's needs. From advising on data protection compliance processes, assisting in the response to data subject access requests, to ad hoc advice on particular data and privacy issues. We can also provide representative services in Europe and the United Kingdom. Our experience in Intellectual Property lends itself to advising on the overlap between data protection compliance and rights that companies may have in data, such as database rights, copyright and trade secrets.
The General Data Protection Regulation (EU) 2016/679 ('GDPR') came into force in May 2018 and introduced a stricter regime than that which had previously existed. It gives data supervisory authorities the ability to levy substantial fines on companies for infringements: up to 4% of annual global turnover or £17.5 million (€20 million), whichever is the greater.
The United Kingdom (UK) has now left the European Union. Whilst the GDPR has been incorporated into UK law through the European Union (Withdrawal) Act 2018, there will inevitably be changes in data protection compliance over time. The Trade and Cooperation Agreement includes a 6-month reprieve on data transfers to the UK whilst the European Commission considers the UK's application for adequacy. Depending on the outcome, businesses may need to re-evaluate the international flows of their data to make sure they are legally valid.
Del Canto Chambers advises on all aspects of compliance with the GDPR, UK GDPR and other privacy laws.
For example we:
Our Experts on Data Protection and Corporate Law
Why choose Del Canto Chambers?
Del Canto Chambers provides dual-qualified, multi-lingual tax lawyers, who have worked on over 500 cases throughout Europe, the Middle East, Latin America and Asia, making us the counsel of choice for London-based and international clients, corporations, solicitors and tax advisers.
Corporate Cases
We have worked on several corporate cases including some of the worlds leading companies in media, luxury boats, football clubs, NGOs, investments and much more
Let us guide you on our services for corporate
Del Canto Chambers specialists are constantly up to date with new legislative changes and aware of any Spanish tax and legal implications. Contact our Spanish legal and tax specialists to find out the best tax planning and corporate structures in your circumstances.
At Del Canto Chambers we are always sharing our knowledge and act as an active voice across different media. The following articles and news are related to and relevant for Real Estate Sale & Purchase and Spanish Tax Law.
The Democratic Memory Law offers descendants of Spanish citizens the opportunity to obtain Spanish nationality. This law is designed to safeguard the Spanish citizenship rights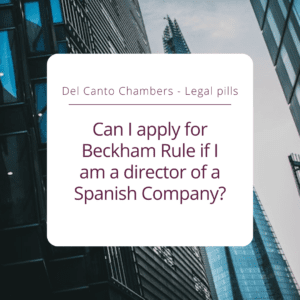 Yes, if you moved to Spain to run a business through a Spanish company as a director you may apply for the Beckham tax regime
When it comes to obtaining Spanish residency as an investor or a Digital Nomad, there are often numerous inquiries and uncertainties surrounding the process, especially