OUR EXPERTISES > CORPORATE
Legal Compliance of Websites
Del Canto Chambers offers a full audit of your website's legal requirements, including your terms and conditions, cookie notice, accessibility notice and privacy policy, among other legal notices.
How to get your website legally compliant?
Our team has broad expertise in a wide range of commercial and technological matters. After carrying out a full audit of your website, we will provide you with the relevant and legally compliant policies, including the following:
Terms and Conditions
Privacy Policy
Cookie Notice
IP Notice
Accessibility Notice
Based on our full audit of your website, we will provide you with any new legal notices as well as the recommended changes to any existing policies. 
Why get your website legally compliant?
The necessity for businesses to have a presence on the Internet is undeniable, making websites a compulsory tool for businesses to have visibility in this digital world. 
Alongside the increase of usage of the internet, there are increasing regulations around the way we enter into this market. Businesses may face large sums of fines in the event of any Data Protection breach. 
Del Canto Chambers offers a comprehensive package of legal compliance for a one time professional fee, which includes an annual maintenance service. 
Our Experts on Legal Compliance of Websites and Corporate Law
Why choose Del Canto Chambers?
Del Canto Chambers provides dual-qualified, multi-lingual tax lawyers, who have worked on over 500 cases throughout Europe, the Middle East, Latin America and Asia, making us the counsel of choice for London-based and international clients, corporations, solicitors and tax advisers.
Corporate Cases
We have worked on several corporate cases including some of the worlds leading companies in media, luxury boats, football clubs, NGOs, investments and much more
Let us guide you on our services for corporate
Del Canto Chambers specialists are constantly up to date with new legislative changes and aware of any Spanish tax and legal implications. Contact our Spanish legal and tax specialists to find out the best tax planning and corporate structures in your circumstances.
At Del Canto Chambers we are always sharing our knowledge and act as an active voice across different media. The following articles and news are related to and relevant for Real Estate Sale & Purchase and Spanish Tax Law.
The Democratic Memory Law offers descendants of Spanish citizens the opportunity to obtain Spanish nationality. This law is designed to safeguard the Spanish citizenship rights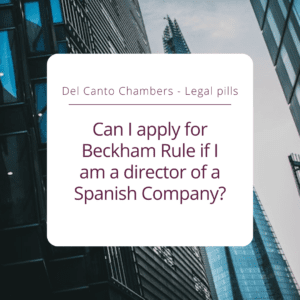 Yes, if you moved to Spain to run a business through a Spanish company as a director you may apply for the Beckham tax regime
When it comes to obtaining Spanish residency as an investor or a Digital Nomad, there are often numerous inquiries and uncertainties surrounding the process, especially