OUR EXPERTISES > MEDIA, SPORT & ENTERTAINMENT
Media, Sports & Entertainment Law
Media, Sport & Entertainment law is an area that requires expert tax and legal professionals with sound knowledge of the industries across global jurisdictions. We are experienced working in the areas of TV, film, media, news, sports, entertainment, providing quick, creative and simple solutions.
Our media law department has the ability and resources to advise on complex and cross-jurisdictional legal issues and has in-depth knowledge of the dynamics of the industry. We also have expertise in social media law which is gaining more prominence across a range of areas, as various social media platforms evolve.
Our Media Law team advised on all the legal and tax implications of a joint venture between Integral Media group and Arianna Huffington at Huffington Post to publish HuffPost Arabi.
We were part of the largest intellectual property paradigm shift in the media world by advising Huffington Post, Al Jazeera and Grupo PRISA. The disruptions of social media and digital journalism changed forever, and intellectual property law as we knew it, and we were at the heart of that change.
Other media clients include Grupo PRISA, the largest media group in the Spanish-speaking world (2013-2018) where our team helped in securing and negotiating a capital investment by Qatari investor Sheikh Khalid al Thani for Grupo PRISA, which exceeded €120m.
Our specialist Media Law team also advised AS, the largest sports newspaper in the Spanish-speaking world (2016-2017) on setting up AS in Arabic and representing AS in a joint venture between Grupo PRISA and the Qatari media group, Dar Al Sharq.
Our services include:
Tax advice on media agreements
International restructuring and valuation of intellectual property holdings
Trademarks, patents, brand and copyright protection and licensing strategies, including agreements and special purchase vehicles for intellectual property holdings
Domains and branding dispute resolution services
Private equity and fundraising
Publishing and advertising
Claims for defamation and breach of confidence/ privacy
Our team has global expertise in Media, Sport & Entertainment law in Europe, Latin America and the Middle East. From start-ups to well-established global businesses, we have in-depth knowledge of the key tax and legal matters relevant to the sector and are discreet, conscientious, and flexible at all times.
We have represented important names in the international media, concluded many high-profile deals with premier league clubs, and advise the global entertainment and TV industries.
In Sports Law, we provide specialist legal advice for sports clubs, owners, sponsors, agents and sportsmen. We were involved in the negotiation of La Liga's TV rights with international sporting channels, as well as advising Tottenham Hotspurs and Valencia CF on sponsorship deals.
An international law firm with offices in Spain and the UK, we have sound knowledge of the Middle East and Latam markets, and work with international federations, professional leagues and sports clubs, advising on all aspects of professional sport and challenges that may arise.
Our team comprises dedicated specialists who have extensive expertise in Sports Law. We are a go-to firm for sports-related matters including (but not limited to), handling player and stadium contracts, sponsorships, media and naming rights, regulatory, competition law and dispute resolution.
Our services include:
Tax advice on Sport agreements
Corporate and commercial arrangements
Employment and contract law
Sponsorship deals
Regulatory and competition law
Intellectual Property and naming rights
Our specialist Entertainment Law department has advised production and distribution companies, screenwriters and directors. This sector is particularly dependant on the protection of intellectual property rights and professional legal advice should always be obtained at an the initial stages before entering into any commercial agreements.
We advised on the acquisition and restructuring of Gulf Film, the largest film distribution company in the Middle East, as well as project managing the re-brand of Grand Cinemas, creating the Novo Cinema franchise in the Gulf, the largest Cinema chain in the Middle East.
"I have had the pleasure of working with León Fernando on several legal projects and have truly appreciated his responsiveness and follow up, his legal insight, expertise and in-depth knowledge. Leon is a consummate professional in every sense of the word".
–Debbie Stanford-Kristiansen, Novo Cinema CEO, UAE. Listed as one of the Top 30 Most Influential Women in the Arab World 2019 – Middle East Female CEO of the Year 2018
From drafting and negotiating heads of terms and non-disclosure agreements to executing transactions in the most tax-efficient ways and dealing with conflict resolution, we add real value for our clients in the Entertainment industry.
Our services include:
Private equity and fundraising
Start-ups and company formation
Franchising
Mergers, sales and acquisitions
Tax planning, audits and compliance
Intellectual property, branding and copyright matters
Dispute Resolution
Why choose Del Canto Chambers?
Del Canto Chambers provides dual-qualified, multi-lingual tax lawyers, who have worked on over 500 cases throughout Europe, the Middle East, Latin America and Asia, making us the counsel of choice for London-based and international clients, corporations, solicitors and tax advisers.
Corporate Cases
We have worked on several corporate cases including some of the worlds leading companies in media, luxury boats, football clubs, NGOs, investments and much more
Let us guide you on our services for media, sport & entertainment
Del Canto Chambers specialists are constantly up to date with new legislative changes and aware of any Spanish tax and legal implications. Contact our Spanish legal and tax specialists to find out the best tax planning and corporate structures in your circumstances.
I have had the pleasure of working with León Fernando on several legal projects and have truly appreciated his responsiveness and follow up, his legal insight, expertise and in-depth knowledge. Leon is a consummate professional in every sense of the word
Debbie Stanford-Kristiansen
Wow, what a refreshing experience – from start to finish the Del Canto team were extremely professional, responsive, knowledgeable and supportive throughout the process of forming a Spanish company and helping transition of our working lives from the UK. Julio in particular went beyond expectations to coordinate everything efficiently. Thank you! The meeting was encouraging so we formally instructed them to act on our behalf to pursue a claim against the Menorcan bank. During the investigation we were kept up to date regularly and after delays created by the pandemic, we finally heard the Spanish High Court had found on our behalf and award a substantial amount. So a very big thank you to all the team and wish them well for the future.
Andy Wright
Del Canto Chambers helped me with the registration of a UK company limited by guarantee as well as the corporate tax and provided the necessary legal advice in order to run the company. They also drafted the appropriate legal agreements with institutional stakeholders. Del Canto Chambers is a highly professional and very efficient law firm, formed by a great team, which allowed my company to take off. I strongly recommend their services.Recently the case has been found in our favour and we have been happy to receive a refund of over payment of interest of just under 9K€. We have been guided through the procedure by Del Canto Chambers, specifically in the preparation of the case ensuring the correct documentation and necessary authorities were in place. During the complete process, Del canto Chambers demonstrated diligence and professionalism. We can recommend Del Canto Chambers and would not hesitate in using them in the future for any further legal work we require.
Julio Crespo
At Del Canto Chambers we are always sharing our knowledge and act as an active voice across different media. The following articles and news are related to and relevant for Real Estate Sale & Purchase and Spanish Tax Law.
The Democratic Memory Law offers descendants of Spanish citizens the opportunity to obtain Spanish nationality. This law is designed to safeguard the Spanish citizenship rights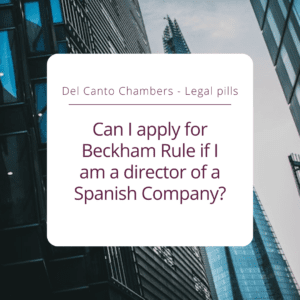 Yes, if you moved to Spain to run a business through a Spanish company as a director you may apply for the Beckham tax regime
When it comes to obtaining Spanish residency as an investor or a Digital Nomad, there are often numerous inquiries and uncertainties surrounding the process, especially