OUR EXPERTISES > CORPORATE
Our mergers and acquisitions lawyers and tax specialists advise on complex and transformational M&A transactions for corporate clients, investors and private individuals. Our mergers and acquisitions teams are highly experienced in advising on corporate transactions from start to finish, having worked on mergers, acquisitions, sales and divestments throughout the world
Mergers and Acquisition Strategy
If M&A is part of your strategic plan, mergers and acquisitions lawyers and tax specialists will help you through all aspects of planning, negotiating and completing the transaction. Whether targeting businesses in the UK or globally we can:
review the financial information and look at the tax implications
help shape offers
negotiate Heads of Terms
drive legal due diligence and processes
help you achieve completion
There are many reasons why a company might wish to merge or acquire another company, encompassing numerous types of company restructuring approaches, although there always has to be strategic reasoning behind the transaction to ensure its success.
Our M&A team are highly experienced in conducting strategic transactions, have deep understanding of the business dynamics in key industries and can support management during this period of commercial scrutiny and change.  Our team are experts in conducting due diligence and know the right questions to ask to ensure a corporate transaction is in the best interest of our client.
Mergers and acquisitions create value for the companies in different ways, and it is important from the outset to understand the driving forces behind the transaction which could include one or a number of commercial motivations:
Improve performance – synergistic mergers can hugely improve the performance of both entities through economies of scale, improved operating profits and reduced overheads, increased market share and impact. 
Accelerate growth – M&A is a fast way to enter a new market or increase penetration in existing sectors.
Acquire expertise – an acquisition can be a good way to acquire proven technologies, unique skill sets to boost innovation, or diversify offerings rather than trying to develop them in-house over time.
Remove Excess capacity there often comes a point when a company is in maturity and might reach excess capacity, which can result in a strategic decision to focus on quality rather than quantity and divest part of the business.
Roll-up – if a market is fragmented and lacks economies of scale, a roll up strategy of multiple small acquisitions can provide great operational efficiency and improved market share.
Remove the Competition – Eliminating competitors through acquisition enables competitive advantage, a larger market share, and long-term cost cutting opportunities.
Merger and Acquisition Deal Structure
As well as the commercial motivation there are different types of acquisition and our experts can help advise on the best way to structure a deal so that it delivers value and mitigates risk. In their simplest form some of the most common transactions are:
Sale of Majority of Assets – the acquiring company buys the majority of assets and usually only takeover liabilities that are attached to the purchased assets.
Stock for Assets – a share purchase, passing all its assets and associated liabilities to the acquirer.
Stock for Stock – a transaction where the acquirer buys shares in the target company and it is run as a subsidiary.
Merger/Consolidation – the most common sort of merger, when assets are acquired, liabilities settled and one company is absorbed into another.
Tender Offer – similar to stock for stock, the difference being the shareholders are offered money in exchange for their shares, after which the target company is dissolved, merged or run as a subsidiary.
Mergers and Acquisitions Lawyers and Tax specialists
Our mergers and acquisitions lawyers and tax specialists have a wide range of multi-jurisdictional corporate expertise including:
Company acquisitions, both asset and share based – we work to ensure acquisitions deliver commercial benefits, assessing legal and tax risks and opportunities.
Company sales and divestments – we have a track record securing maximum value for shareholders and corporate entities on the sale of business.
Business transactions and joint ventures – our teams can drive the due diligence process, coordinating with other parties and applying commercial logic to risk mitigation.
Complex restructurings and reorganisations – offer practical advice on restructuring and the legal and tax issues arising from it.
Private Equity investments and venture capital – Having built up contacts in the finance community we can advise both investors and management teams to help complete corporate finance transactions.
We can help establish a mergers and acquisitions strategy that focuses on numerous elements, including analysis and prioritisation of potential opportunities and risks, identification of the important legal and tax implications, and an execution roadmap through the M&A process. We can also advise on a post-merger integration approach and how to integrate legal and tax considerations.
Examples of some of the corporate transactions we have worked on include:
Gulf Film & Grand Cinemas acquisition: Advising on final completion and the governance framework for Qatar Media's acquisition of Gulf Film and Grand Cinemas.
Sunseekers Yacht Group Restructuring: Restructuring of EU operations for the Group, including merging international operations.
Specsavers Group restructuring: Group Restructuring and tax advisory services.
Grupo PRISA, the largest media group in the Spanish-speaking world: Securing and negotiating a capital investment by Qatari investor Sheikh Khalid al Thani for Grupo PRISA, which exceeded €120m.
How we can help?
Del Canto Chambers assists clients in structuring a wide range of transactions, from:
Del Canto Chambers team uniquely understands the complexities of international tax and legal complexities, ensuring that details, no matter how small, are not overlooked in a transaction.
A Del Canto partner will stay involved throughout the work to ensure you experience a seamless service. That connection provides consistency and intimate client knowledge, expertise and proactive advisory services. We will also help you navigate through the transactional process coordinating the different professionals involved.
Our Experts on M&A and Corporate Law
Why choose Del Canto Chambers?
Del Canto Chambers provides dual-qualified, multi-lingual tax lawyers, who have worked on over 500 cases throughout Europe, the Middle East, Latin America and Asia, making us the counsel of choice for London-based and international clients, corporations, solicitors and tax advisers.
Corporate Cases
We have worked on several corporate cases including some of the worlds leading companies in media, luxury boats, football clubs, NGOs, investments and much more
Let our Lawyers and Tax Experts guide you on M&A process's
Del Canto Chambers specialists are constantly up to date with new legislative changes and aware of any Spanish tax and legal implications. Contact our Spanish legal and tax specialists to find out the best tax planning and corporate structures in your circumstances.
At Del Canto Chambers we are always sharing our knowledge and act as an active voice across different media. The following articles and news are related to and relevant for Real Estate Sale & Purchase and Spanish Tax Law.
The Democratic Memory Law offers descendants of Spanish citizens the opportunity to obtain Spanish nationality. This law is designed to safeguard the Spanish citizenship rights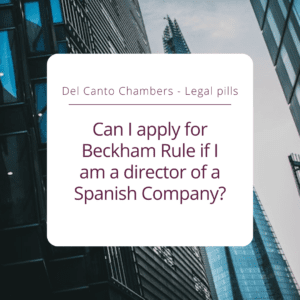 Yes, if you moved to Spain to run a business through a Spanish company as a director you may apply for the Beckham tax regime
When it comes to obtaining Spanish residency as an investor or a Digital Nomad, there are often numerous inquiries and uncertainties surrounding the process, especially